Invited by the organizers FORUM -Forums and Conferences- EXO Argentina was invited to participate in the Corporate Training Forum.23 that took place on March 14th. Dolores Crespo, EXO's Product Marketing Manager, was part of the panel -together with other professionals of the sector- and talked about the new organizational structures and the need of continuous training to achieve a homogenization between new and experienced employees. The conference was aimed at Human Resources sectors of the companies, oriented to training.
During his presentation, Crespo shared the various solutions offered by EXO Argentina to optimize training times, allowing all employees to receive the same quality of information regardless of their geographical location within a business context where hybrid and remote employees coexist. "The main objective was to communicate the technological advances that exist and that accompany this organizational transformation, with the aim of helping companies to achieve better communication among their employees," said Crespo.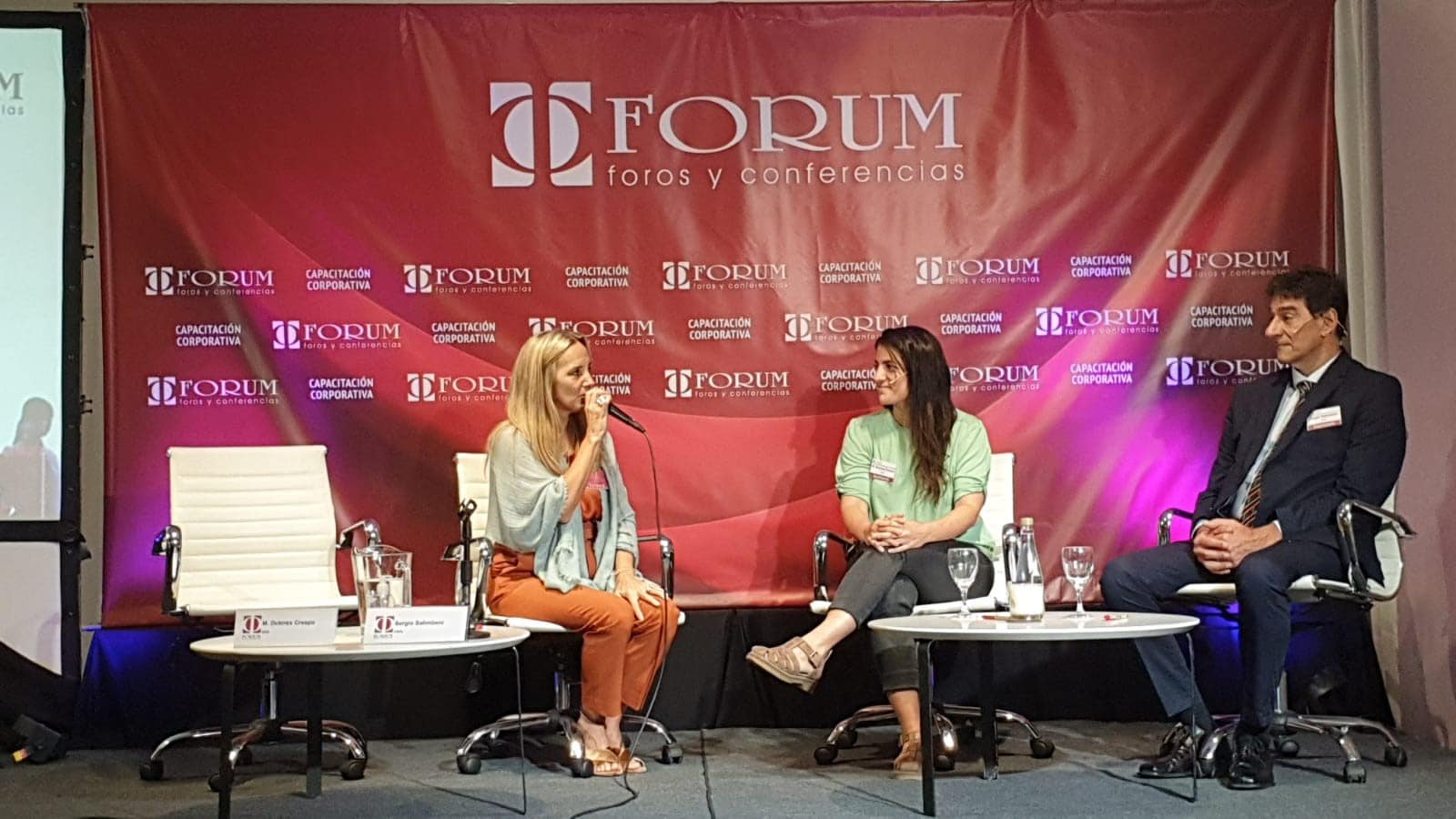 Given the organizational transformations of the last few years, and aggravated by the pandemic, companies are facing several challenges, such as the hybrid and remote work mode. This can generate, on the one hand, benefits for both the company and the staff, but on the other hand, it can cause great difficulties to optimize training spaces between on-site and remote members and -also- problems of integration and motivation within the company.
In the case of hybrid training, in which both face-to-face and remote members participate, the recommendation is to prioritize the integration and dynamism of the meeting. For this purpose, EXO Argentina developed a solution called EXO Touch Interactive System, which consists of a 75-inch screen, a mobile support and a multi-camera for video conferences. "This solution allows us to interact fluidly among the members, as it has a camera with sound reduction and captures several voices simultaneously, which also automatically tracks the location of the voice emission of the speakers, that is, focuses on the person speaking, which is essential for a more personal interaction," Crespo explained. The interactive screen works as a large computer from which you can access the Internet, make screenshots, draw on them and share them; interact with more than one member at a time, write and erase the screen manually, among many other features.
"Thanks to the products and services presented by EXO Argentina, distances are shortened and the difficulties to train online are reduced to a minimum," concluded the executive.
The Jamboree 2023 meeting included four days of evening cultural activities, community service and the development of the fraternity of sharing with other brothers and sisters. The Scouts had the opportunity to enjoy a privileged natural environment in the city of Paso de Los Libres, in an area of the Argentine Army, in the border area of the Uruguay River.