The Municipality of Bariloche presented a project that aims to strengthen health services in the Patagonian city. It is an initiative developed between public and private institutions and NGOs to carry out a comprehensive telemedicine project that involves the use of two EXO Mobile Diagnostic Centers (CDM) and the ADISTAL Medical Interconsultation Platform (both technological solutions donated and designed by EXO S.A. to the Municipality of Bariloche).
Also, technical advice and training in digital health will be provided by the Favaloro University, and the INTECNUS Foundation will be integrated to this conjunction of institutions, which would be the recipient of queries regarding the city's Fire System and remote care of those people who are monitored.
To this end, EXO signed two agreements: a mutual collaboration agreement between the company and the Municipality of Bariloche, and a specific agreement between Favaloro University, INTECNUS Foundation, the Municipality and EXO.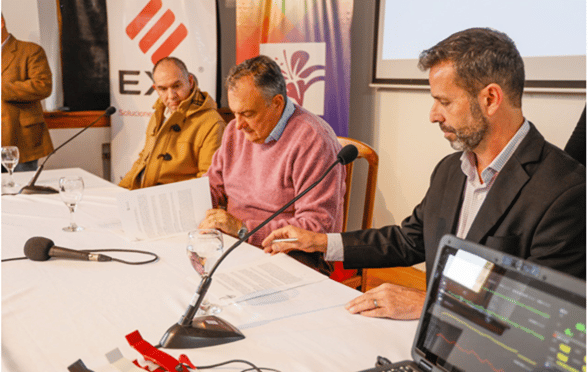 The announcement was made at the municipal headquarters and was attended by the local mayor, Eng. Gustavo Genusso, municipal authorities and Fernando Gonzalez, EXO's Social Responsibility and Sustainability Manager.
The project aims to implement an effective campaign of medical check-ups to assist approximately 400 people who attend municipal gyms and institutions that provide support to Civil Protection (Volunteer Firefighters, Firefighters of the Argentine Federal Police). A total of 200 people from the Sports area and another 200 from the local fire department system will be targeted.
The Undersecretariat of Civil Protection will also provide support with the CDM to the Argentine Army, SIARME, National Gendarmerie and National Parks. This pilot test seeks to be one more step in laying the foundations for the digital transformation of the healthcare system, aimed at expanding access to quality medical services wherever they are needed.
The support of Civil Protection will be given in a framework of prevention and implementation of a wide range of activities, and medical statistical information (big data or management of large volumes of data) of the target population, obtained by INTECNUS Foundation, which will collaborate with human resources and data analytics for future applications of Artificial Intelligence.
Mayor Genusso commented: "we are very pleased to sign this agreement because when problems are complex, inter-institutional work is needed to reach solutions for the benefit of all, and even more so in this case, which is about seeking solutions that address the health of the neighbors".
The results generated by this project will provide sufficient evidence to evaluate its replicability in other districts and its scalability in the future, becoming a model for the province of Río Negro.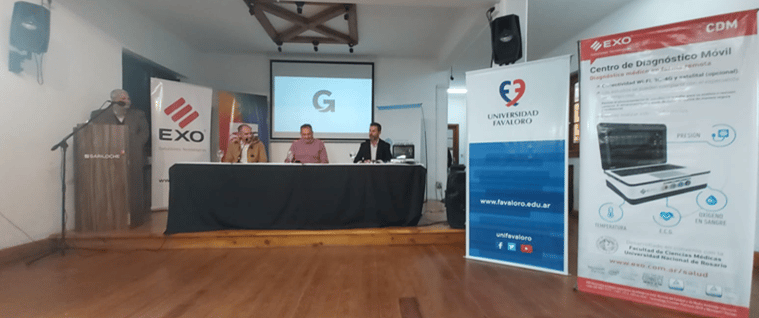 Fernando Gonzalez added during the presentation that "at EXO we understand the importance of incorporating telemedicine equipment to bring medical care closer to people at a distance, enabling a quick diagnosis without the need to travel, thus saving lives," said the executive.